ULTRA South Africa Announces New Venue, Early Birds on Sale August 2nd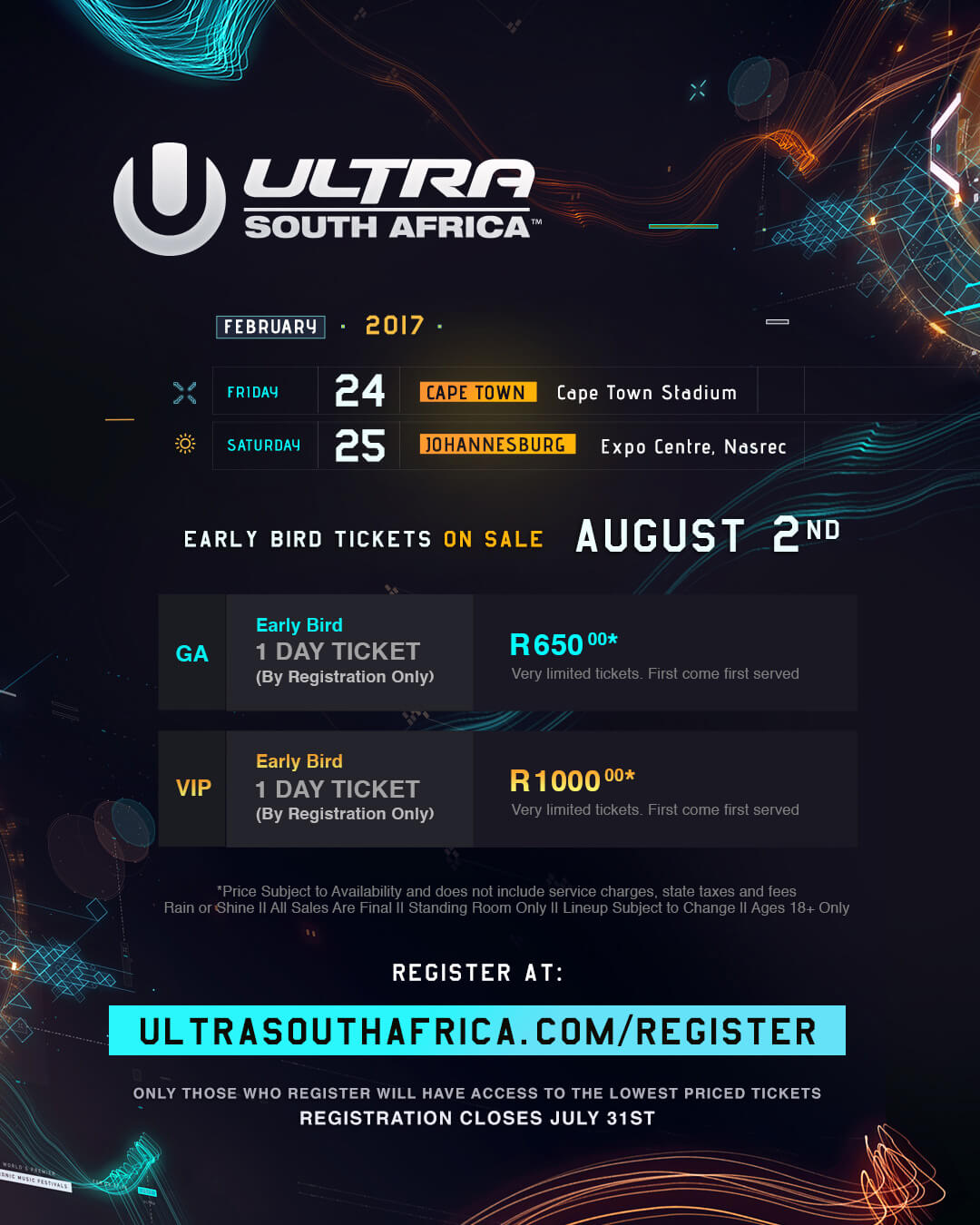 Early Bird Ticket Registration Now Open
Cape Town – Friday, February 24
Cape Town Stadium
Johannesburg – Saturday, February 25
Nasrec Expo Centre
ULTRA SOUTH AFRICA proudly announces its return with the 2017 festival dates, a brand new venue for Cape Town, and for those that are quick on the draw, a limited number of early bird tickets that will be available at the lowest prices guaranteed.
As South Africa's biggest electronic music festival, ULTRA South Africa has built a name that, like the global brand, is synonymous with the world best DJs, and the hottest destination venues, coupled with the most advanced sound and lighting production SA has ever seen. ULTRA South Africa has continued to raise the festival bar year on year, and 2017 will be no different.
Five months after the 2016 shows, it can finally be revealed that Africa's largest electronic music festival will be held for the first time in 2017 at the iconic and world-renowned CAPE TOWN STADIUM, Green Point on Friday, February 24. This venue, the landmark of the Mother City, will create an entirely new ULTRA experience for Capetonian electronic music lovers, ensuring that loyal patrons will experience something entirely unique, while new Ultranauts will have a completely unforgettable festival experience.
The Johannesburg event will remain at its lifelong home, the NASREC EXPO CENTRE on Saturday, February 25, offering the same earth-shaking music experience that it has every year.
Early bird registration opened to an overwhelming response on 20th July, and early bird tickets go on sale (for those that registered) on Tuesday 2nd August on a first come, first served basis. Please note that this will be the best ticket price for ULTRA South Africa 2017; see all three tiers of ticket prices below.
Johannesburg
General Admission
Early Bird (by registration only): R650
Tier 1: R800
Tier 2: R950
VIP
Early Bird (by registration only): R1000
Tier 1: R1400
Tier 2: R1800
VVIP
Tier 1: R3000
Tier 2: R4000
Cape Town
General Admission
Early Bird (by registration only): R650
Tier 1: R750
Tier 2: R850
VIP
Early Bird (by registration only): R1000
Tier 1: R1300
Tier 2: R1600
Prices do not include booking fees.
Follow ULTRA South Africa on Facebook, Twitter and Instagram for real-time updates on artists, tickets and festival updates.
About ULTRA Worldwide™
ULTRA WORLDWIDE™ IS THE GLOBAL EDITION OF THE WORLD'S PREMIER ELECTRONIC MUSIC EVENT, ULTRA MUSIC FESTIVAL®.
The ULTRA brand in relation to live events was founded in 1997 in Miami by Executive Producer, President & CEO, Russell Faibisch, who began by producing electronic music events which led to the inaugural Ultra Music Festival® in 1999 on the sands of Miami Beach.
The internationally renowned festival, which has taken place every March since its inception, celebrated its eighteenth anniversary on March 18-20, 2016 by bringing over 165,000 music enthusiasts to the sold out waterfront event in the heart of the City of Miami. Ultra Music Festival®, recently voted the world's #1 Festival by DJ Mag, returns to Bayfront Park for its nineteenth annual edition on March 24-26, 2017.
Choosing to follow a unique and creative vision and a wholly organic growth focused on its true love for music, artists and fans alike, the ULTRA and ULTRA Worldwide™ brands represent not only the world's biggest and most successful remaining INDEPENDENT electronic music festival brand, but also the most international festival brand in the world. Event organizers continue to transport the unrivaled experience from the Miami flagship festival to an ever-growing number of destinations and Ultranauts all over the globe.
Over the past eighteen years, thousands of the world's most iconic DJs, producers and live acts have mesmerized audiences with awe-inspiring sets at ULTRA festivals in ARGENTINA, BALI, BRAZIL, CHILE, CROATIA, IBIZA, JAPAN, KOREA, SOUTH AFRICA and of course MIAMI, as well as ROAD TO ULTRA® events in BOLIVIA, CHILE, COLOMBIA, JAPAN, KOREA, MACAU, PARAGUAY, PERU, THE PHILIPPINES, PUERTO RICO, SINGAPORE, TAIWAN, THAILAND and the USA. Each new global edition has been founded on the same successful recipe that has been perfected over eighteen years in Miami, combining the most diverse electronic talent with the most technologically advanced, large-scale festival productions in the world.
The ULTRA brands have pioneered the live stream experience with 'ULTRA LIVE' (bringing the festival online to over 20 million unique viewers globally) and the audio broadcasting platform 'UMF RADIO' (syndicated to FM Radio in over 62 countries and reaching more than 22 million listeners weekly). Also UMF FILMS' collaboration with FINAL KID has seen some of the most visually breathtaking festival aftermovies in the music space, including a feature-length documentary exploring the explosion of dance music, entitled CAN U FEEL IT™, which was premiered on the red carpet at the Klipsch Amphitheater in Miami in 2012 and was exhibited in over 500 theaters across the Unites States.
2016 will see the ULTRA and ULTRA WORLDWIDE™ brands continue to push the boundaries even further, bringing an unparalleled combination of cutting edge productions and the world's best electronic acts back to previous strongholds and new frontiers across the globe. With a brand new edition of ULTRA Brasil® confirmed to take place in Rio de Janeiro on October 14-15, 2016, ULTRA Singapore™ becoming a full scale two-day festival on September 10-11 and with ROAD TO ULTRA® entering Hong Kong later this year, the ULTRA brand has now united TWENTY COUNTRIES across FIVE CONTINENTS worldwide.