ULTRA Brasil Tickets are Back On Sale!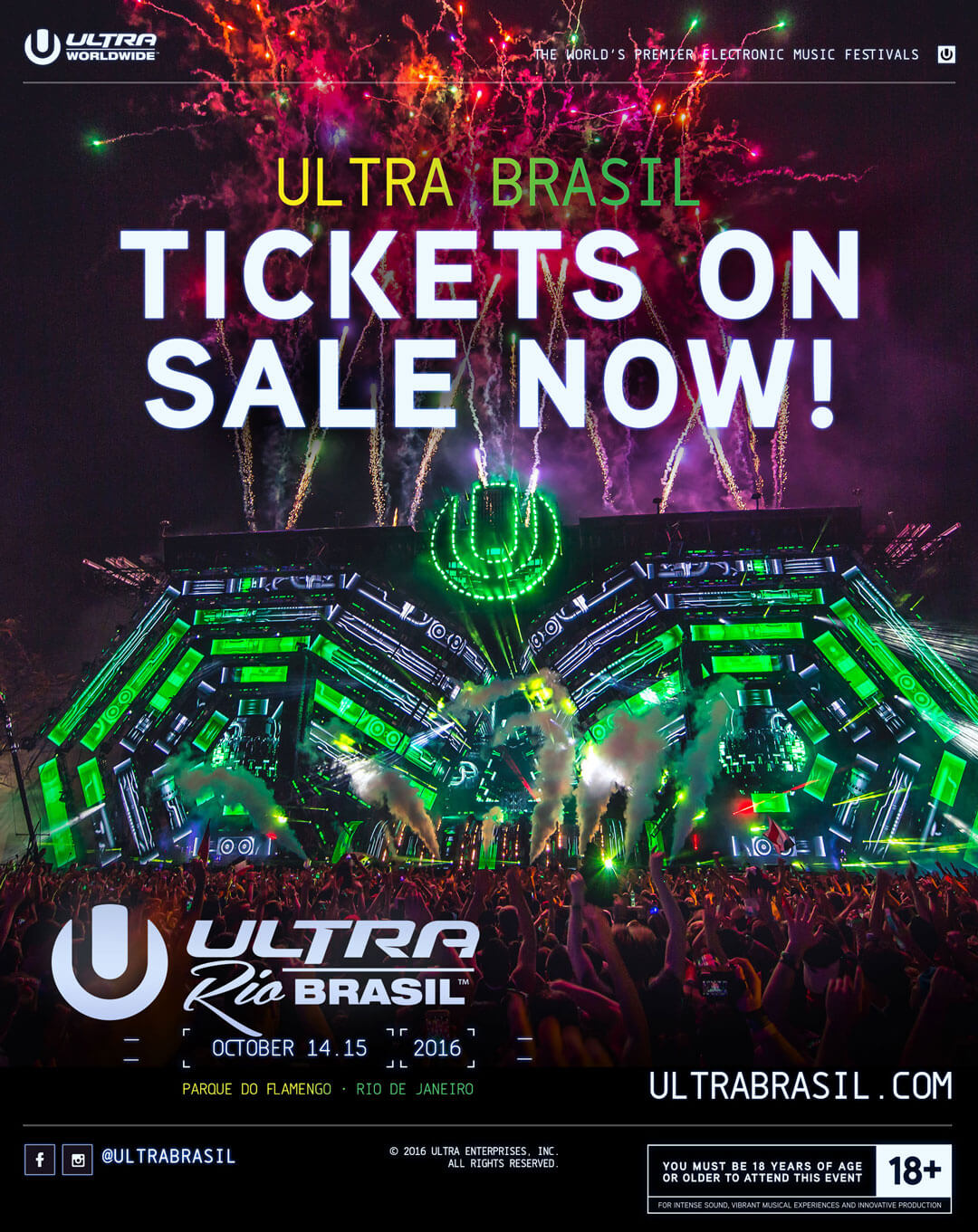 Domestic Travel Packages Available Now
International Travel Packages Available on May 17
Having SOLD OUT an exclusive pre-sale within a matter of hours back in April, ULTRA BRASIL today releases the next round of tickets for its hotly anticipated debut event in Rio de Janeiro later this year.
Taking place on October 14 & 15, at the stunning waterside Flamengo Park, a limited number of GA and VIP tickets are now available exclusively from ultrabrasil.com.
For international fans looking to experience this once-in-a-lifetime event, 2-day weekend tickets start at the incredible price of R$ 679 for GA and R$ 1,649 for VIP. Half price weekend tickets, available exclusively to Brazilian citizens*, start at R$ 339.50.
For full details regarding all ticket prices, head to UltraBrasil.com
To ensure everybody gets the chance to experience what ULTRA Brasil has to offer, organizers have curated a whole host of deals and travel packages for their incoming Ultranauts. Among these, are travel options and exclusive offers for some of the best accommodation in Rio de Janeiro. Domestic travel packages are available now and international travel packages will go on sale May 17. For registration and further information, visit UltraBrasil.com/travel
Since ULTRA Worldwide announced plans to make Rio de Janeiro the nineteenth destination on its global tour in 2016, international demand for ULTRA Brasil has been unprecedented, with over 65,000 people registering their interest for the initial pre-sale. While registration is not necessary this time around, tickets will once again be allocated on a first come, first served basis and are in very limited supply.
Landing shortly after the 2016 Summer Olympic Games at the beautiful Flamengo Park in Rio de Janeiro – a site that has been widely compared to Bayfront Park, the home of ULTRA Music Festival in Miami – ULTRA Brasil is well on its way to becoming one of the true highlights in ULTRA Worldwide's ever growing stable of events.
During ULTRA Miami, Martin Garrix and Carl Cox were announced as ULTRA Brasil headliners to millions tuned into the festival's global live stream. The full Phase One lineup is expected to drop in the coming weeks. Stay tuned to ultrabrasil.com for the latest info.
* Half priced tickets are only available to Brazilian citizens who fall under one of the following categories: (i) under the age of 21; (ii) a teacher; (iii) a student; (iv) over the age of 59; (v) the disabled. All half-price ticket attendees will have to present their ID upon entering the festival
UltraBrasil.com |Facebook | Instagram
About ULTRA WORLDWIDE™
ULTRA WORLDWIDE™ is the global edition of the World's Premier Electronic Music event, ULTRA MUSIC FESTIVAL.
The ULTRA brand was founded in 1997 by Executive Producer, President & CEO Russell Faibisch, and began producing electronic music events in South Florida, which led to the inaugural Ultra Music Festival in 1999 on the sands of Miami Beach.
The internationally renowned festival, which has taken place every March since its inception, celebrated its eighteenth anniversary from March 18-20, 2016 by bringing over 165,000 music enthusiasts to the sold out waterfront event in the heart of the City of Miami. Ultra Music Festival returns to Bayfront Park for its nineteenth annual edition, 24-26 March 2017.
Choosing to follow a unique, creative vision and a wholly organic growth focused around a true love for music, artists and fans alike, the ULTRA and ULTRA Worldwide™ brands represent not only the world's biggest and most successful remaining INDEPENDENT electronic music festival brand, they are now the most international of any festival brand in the world by far. The event organizers continue to transport the unrivalled experience from the Miami flagship festival to an ever-growing number of destinations and fans all over the globe.
Over the past eighteen years, literally thousands of the world's most iconic DJs, producers and live acts have mesmerized audiences with awe-inspiring sets at ULTRA festivals in ARGENTINA, BALI, BRAZIL, CHILE, CROATIA, IBIZA, JAPAN, KOREA, SOUTH AFRICA and of course MIAMI, as well as ROAD TO ULTRA® events in BOLIVIA, CHILE, COLOMBIA, MACAU, PARAGUAY, PERU, THE PHILIPPINES, PUERTO RICO, SEOUL, SINGAPORE, TAIWAN, THAILAND, TOKYO and the USA. Each and every new global edition is founded on the same successful recipe that has been perfected over eighteen years in Miami, combining the most diverse electronic talent with the most technologically advanced, large-scale festival productions in the world.
In addition, the ULTRA brands pioneered the live stream experience, 'ULTRA LIVE' (whereby the festival is brought online to over 20 million unique viewers globally) and the audio broadcasting platform 'UMF RADIO' (syndicated to FM Radio in over 77 countries and reaching more than 22 million listeners weekly). Also UMF FILMS' collaboration with FINAL KID has seen some of the most visually breathtaking festival aftermovies in the music space, including a feature-length documentary exploring the explosion of dance music, entitled CAN U FEEL IT, which premiered at the Ultra Music Festival, Miami 2012 and was exhibited in over 500 theaters across the Unites States.
2016 will see the ULTRA and ULTRA WORLDWIDE™ brands continue to push the boundaries even further, bringing an unparalleled combination of cutting edge productions and the world's best electronic acts back to previous strongholds and new frontiers across the globe. With a brand new edition of ULTRA Brasil confirmed to take place in Rio de Janeiro on 14-15 October 2016, ULTRA Singapore becoming a full scale two-day festival on 9-10 September and with ROAD TO ULTRA® entering Hong Kong later this year, the ULTRA brand has now united TWENTY COUNTRIES across FIVE CONTINENTS worldwide. For full details on all ULTRA Worldwide events, go to ultramusicfestival.com