RESISTANCE Ibiza Drops 2019 Season Calendar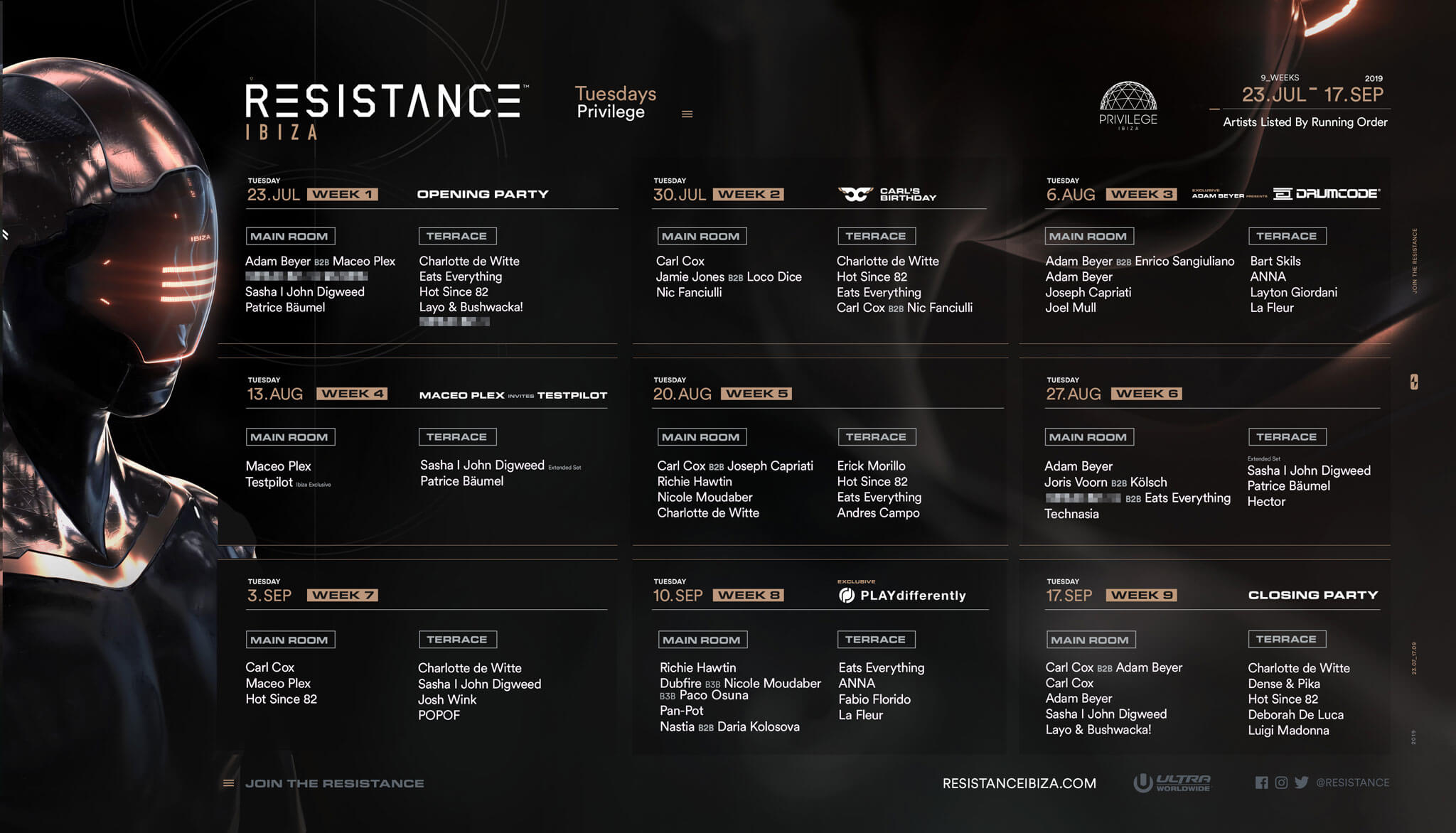 EARLY BIRD TICKETS ON SALE NOW!
RESISTANCE Ibiza is ready to storm the White Isle for its 2019 season. After only recently wrapping up the debut of RESISTANCE Island at the 21st edition of Ultra Music Festival in Miami, the DJ Awards' winner for Ibiza Night 2018 has unveiled the season calendar for its third summer on the island. The loaded nine-week residency will launch with its Opening Party on 23 Jul and take place every Tuesday at Privilege Ibiza until its colossal Closing Party on 17 Sep.
Ultra Worldwide's esteemed underground concept had already announced its stacked roster of headliners a few weeks ago, and now the rest of the programming has taken shape. Joining the robust group of headliners as special guests this season are Andres Campo, ANNA, Bart Skils, Daria Kolosova, Deborah De Luca, Dense & Pika, Enrico Sangiuliano, Erick Morillo, Fabio Florido, Hector, Joel Mull, Josh Wink, La Fleur, Layo & Bushwacka!, Layton Giordani, Luigi Madonna, Nastia, Patrice Bäumel, POPOF, and Technasia.
The Opening Party is set to kick the season off with a jam packed lineup that is headlined by an Ibiza Exclusive B2B between Main Room Resident Adam Beyer and Maceo Plex. Joining them in the Main Room are Exclusive Residents Sasha | John Digweed and Patrice Bäumel, who plays his first of three shows this season. Next door, Charlotte de Witte, Eats Everything, Hot Since 82 will begin their Exclusive Terrace Residencies and set the tone for their season. Also performing on the Terrace will be English duo Layo & Bushwacka!, who will be playing their first of two Ibiza Exclusive performances.
The momentum continues into Week 2 where RESISTANCE Global Ambassador Carl Cox makes his return to the RESISTANCE residency for his always highly anticipated birthday party. The King will be accompanied by Jamie Jones and Loco Dice who will be going B2B, Charlotte de Witte, Hot Since 82, Eats Everything and Nic Fanciulli, who Carl himself will be playing a special B2B set with in the Terrace to start off the night at 22:00.
Week 3 will see Adam Beyer bring his Drumcode label back to RESISTANCE Ibiza after a highly successful debut showcase on the island last season. For this season's iteration, the Don of Drumcode is bringing an all-star group that includes Joseph Capriati, ANNA, Layton Giordani, Bart Skils, Joel Mull, La Fleur and an Ibiza debut B2B between himself and the burgeoning Enrico Sangiuliano to close out the night.
Maceo Plex invites Testpilot for a takeover in Week 4, marking a special Ibiza debut and exclusive performance for deadmau5's techno alias. Meanwhile in the Terrace, Patrice Bäumel will start off the night before handing the reins over to Sasha | John Digweed for one of their highly regarded extended sets.
Richie Hawtin is also set to bring his PLAYdifferently imprint back on Week 8 for RESISTANCE Ibiza's penultimate show of the season to showcase his industry leading Model 1 mixer. The techno titan will be joined in the Main Room by the high flying B3B of Dubfire, Nicole Moudaber and Paco Osuna, German duo Pan-Pot, and a unique B2B between Ukraine's own Nastia and Daria Kolosova. The Terrace will be graced by the likes of Eats Everything, ANNA, Fabio Florido and La Fleur.
RESISTANCE Ibiza concludes at its Closing Party on 17 Sep, and will do so in style, calling on some of its foremost stars to wrap up the season. Adam Beyer, Carl Cox, Sasha | John Digweed and Layo & Bushwacka! are all scheduled for the Main Room with Adam and Carl finishing the RESISTANCE Ibiza season with an Ibiza Exclusive B2B set, while Charlotte de Witte and Hot Since 82 will cap off their immense season as Terrace Residents along with Dense & Pika, Deborah De Luca and Luigi Madonna.
Bringing in its most comprehensive lineup yet to the White Isle, it's clear that RESISTANCE Ibiza will be the event to go to for the best in techno and house.
Early bird tickets for RESISTANCE IBIZA are on sale NOW and can be purchased at resistanceibiza.com/tickets.
RESISTANCE IBIZA Lineup & Program
Week 1 – Opening Party – Tuesday 23.JUL
Main Room
Adam Beyer B2B Maceo Plex
TBA
Sasha | John Digweed
Patrice Bäumel
Terrace
Charlotte de Witte
Eats Everything
Hot Since 82
Layo & Bushwacka!
TBA
Week 2 – Carl's Birthday – Tuesday 30.JUL
Main Room
Carl Cox
Jamie Jones B2B Loco Dice
Nic Fanciulli
Terrace
Charlotte de Witte
Hot Since 82
Eats Everything
Carl Cox B2B Nic Fanciulli
Week 3 – Adam Beyer presents DRUMCODE – Tuesday 6.AUG
Main Room
Adam Beyer B2B Enrico Sangiuliano
Adam Beyer
Joseph Capriati
Joel Mull
Terrace
Bart Skils
ANNA
Layton Giordani
La Fleur
Week 4 – Maceo Plex Invites Testpilot – Tuesday 13.AUG
Main Room
Maceo Plex
Testpilot
Terrace
Sasha | John Digweed – Extended Set
Patrice Bäumel
Week 5 – Tuesday 20.AUG
Main Room
Carl Cox B2B Joseph Capriati
Richie Hawtin
Nicole Moudaber
Charlotte de Witte
Terrace
Erick Morillo
Hot Since 82
Eats Everything
Andres Campo
Week 6 – Tuesday 27.AUG
Main Room
Adam Beyer
Joris Voorn B2B Kölsch
TBA B2B Eats Everything
Technasia
Terrace
Sasha | John Digweed – Extended Set
Patrice Bäumel
Hector
Week 7 – Tuesday 3.SEP
Main Room
Carl Cox
Maceo Plex
Hot Since 82
Terrace
Charlotte de Witte
Sasha | John Digweed
Josh Wink
Popof
Week 8 – PLAYdifferently – Tuesday 10.SEP
Main Room
Richie Hawtin
Dubfire B3B Nicole Moudaber B3B Paco Osuna
Pan-Pot
Nastia B2B Daria Kolosova
Terrace
Eats Everything
ANNA
Fabio Florido
La Fleur
Week 9 – Closing Party – Tuesday 17.SEP
Main Room
Carl Cox B2B Adam Beyer
Carl Cox
Adam Beyer
Sasha | John Digweed
Layo & Bushwacka!
Terrace
Charlotte de Witte
Dense & Pika
Hot Since 82
Deborah De Luca
Luigi Madonna
B2Bs and B3Bs:
Adam Beyer B2B Enrico Sangiuliano _Ibiza Debut_
Adam Beyer B2B Maceo Plex _Ibiza Exclusive_
Carl Cox B2B Adam Beyer _Ibiza Exclusive_
Carl Cox B2B Joseph Capriati _Ibiza Exclusive_
Carl Cox B2B Nic Fanciulli _Ibiza Exclusive_
Dubfire B3B Nicole Moudaber B3B Paco Osuna _Ibiza Exclusive_
Jamie Jones B2B Loco Dice
Joris Voorn B2B Kölsch
Nastia B2B Daria Kolosova _Ibiza Debut_
Sasha | John Digweed _Ibiza Exclusive_