RESISTANCE IBIZA Announces Final Lineup and Weekly Programming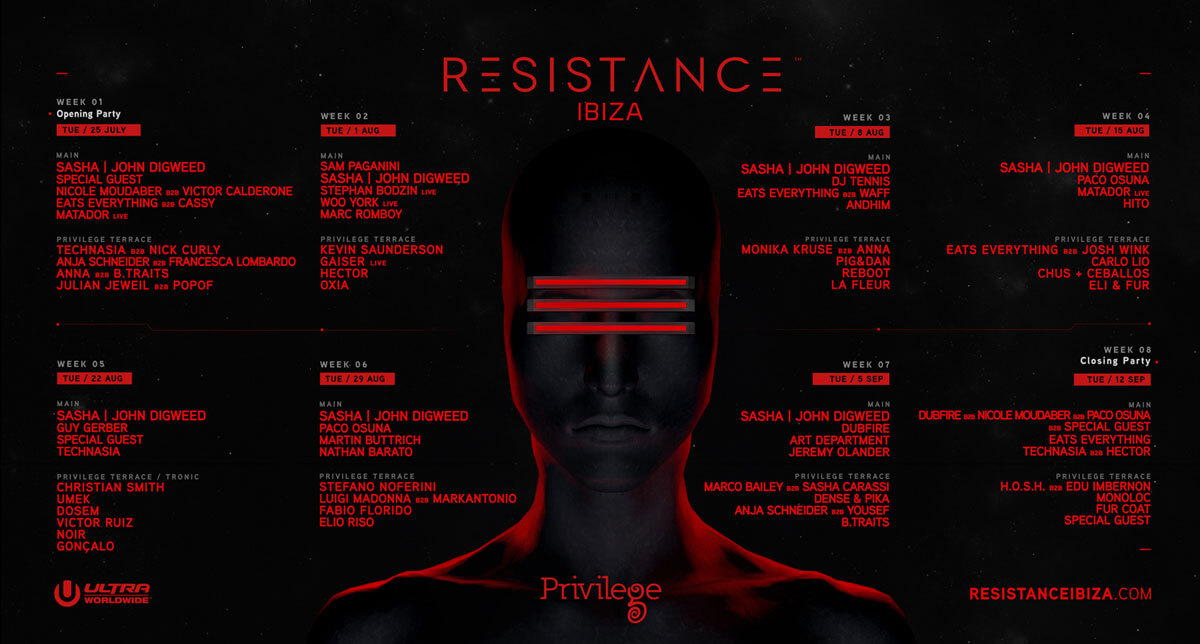 OPENING PARTY TO INCLUDE SASHA | JOHN DIGWEED, EATS EVERYTHING B2B CASSY, MATADOR LIVE, NICOLE MOUDABER B2B VICTOR CALDERONE AMONG MANY MORE
CLOSING PARTY MARATHON SET ANNOUNCED WITH DUBFIRE B2B NICOLE MOUDABER B2B PACO OSUNA B2B SPECIAL GUEST PLUS MORE
ART DEPARTMENT, EDU IMBERNON, FUR COAT, GAISER (Live), HECTOR, H.O.S.H., JEREMY OLANDER, MONOLOC, OXIA, PIG&DAN JOIN THE RESISTANCE
FIFTEEN B2B SETS ANNOUNCED ACROSS THE EIGHT-WEEK RESIDENCY AT PRIVILEGE
With just over a month to go until the grand opening on 25 July, RESISTANCE™ now announces the final lineup and weekly programming for its landmark residency at Privilege Ibiza this summer.
Set to run every Tuesday until 12 September, RESISTANCE™ IBIZA will be headlined by Sasha & John Digweed (exclusive Ibiza residents) for seven of the eight weekly parties, as the brand prepares to bring over 60 of the most diverse names in the house and techno scene to the world's largest club this summer.
Debuting on 25 July, RESISTANCE™ IBIZA's Opening Party will see the brand making a splash on the White Isle right from the start, with Sasha & John Digweed set to be joined in the Privilege Main Room by Eats Everything b2b Cassy, Matador (Live), Nicole Moudaber b2b Victor Calderone and one very special guest. The Privilege Terrace will be a full-on b2b affair, with Anja Schneider b2b Francesca Lombardo, Anna b2b B.Traits, Julian Jeweil b2b Popof, and Technasia teaming up with Nick Curly.
The Closing Party will then see RESISTANCE™ go out in style, as Dubfire, Nicole Moudaber, Paco Osuna and a special guest ALL GO B2B for a marathon closing set, with the likes of Eats Everything and many more set to perform.
A further 10 names have also been added to the schedule across the summer, with Art Department, Edu Imbernon, Fur Coat, Gaiser (Live), Hector, H.O.S.H., Jeremy Olander, Monoloc, Oxia, Pig&Dan now confirmed to join the likes of Andhim, Dubfire, Francesca Lombardo, Guy Gerber, Kevin Saunderson, Marco Bailey, Martin Buttrich, Paco Osuna, Sam Paganini, Stephan Bodzin, DJ Tennis and many more.
View the full lineup and program here. Tickets for all eight Ibiza parties are now on sale at ResistanceIbiza.com.
RESISTANCE™ IBIZA Lineup & Program
Week 1 OPENING PARTY – Tuesday 25 July
Main:
Sasha | John Digweed
Special Guest
Nicole Moudaber b2b Victor Calderone
Eats Everything b2b Cassy
Matador (Live)
Privilege Terrace:
Technasia b2b Nick Curly
Anja Schneider b2b Francesca Lombardo
Anna b2b B.Traits
Julian Jeweil b2b Popof
Week 2 – Tuesday 1 August
Main:
Sam Paganini
Sasha | John Digweed
Stephan Bodzin (Live)
Woo York (Live)
Marc Romboy
Privilege Terrace:
Kevin Saunderson
Gaiser (Live)
Hector
Oxia
Week 3 – Tuesday 8 August
Main:
Sasha | John Digweed
DJ Tennis
Eats Everything b2b Waff
Andhim
Privilege Terrace:
Monika Kruse b2b Anna
Pig&Dan
Reboot
La Fleur
Week 4 – Tuesday 15 August
Main:
Sasha | John Digweed
Paco Osuna
Matador (Live)
Hito
Privilege Terrace:
Eats Everything b2b Josh Wink
Carlo Lio
Chus + Ceballos
Eli & Fur
Week 5 – Tuesday 22 August
Main:
Sasha | John Digweed
Guy Gerber
Special Guest
Technasia
Privilege Terrace / Tronic:
Christian Smith
Umek
Dosem
Victor Ruiz
Noir
Gonçalo
Week 6 – Tuesday 29 August 5>
Main:
Sasha | John Digweed
Paco Osuna
Martin Buttrich
Nathan Barato
Privilege Terrace:
Stefano Noferini
Luigi Madonna b2b Markantonio
Fabio Florido
Elio Riso
Week 7 – Tuesday 5 September
Main:
Sasha | John Digweed
Dubfire
Art Department
Jeremy Olander
Privilege Terrace:
Marco Bailey b2b Sasha Carassi
Dense & Pika
Anja Schneider b2b Yousef
B.Traits
Week 8 CLOSING PARTY – Tuesday 12 September
Main:
Dubfire b2b Nicole Moudaber b2b Paco Osuna b2b Special Guest Marathon Set
Eats Everything
Technasia b2b Hector
Privilege Terrace:
H.O.S.H. b2b Edu Imbernon
Monoloc
Fur Coat
Special Guest